Introducing the Revolutionary 2019 Infiniti QX50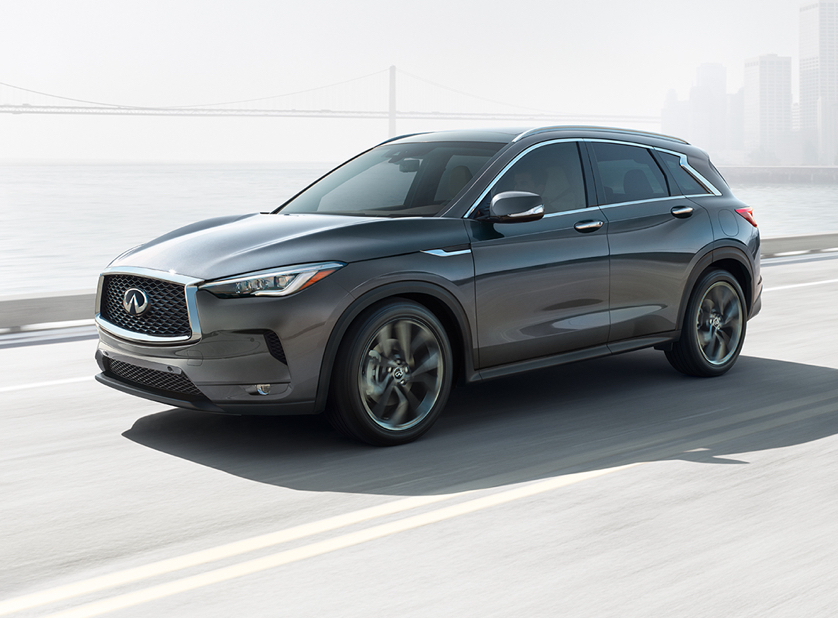 When the Infiniti QX50 was unveiled in 2014, it was essentially a re-badged EX37. Infiniti did very little to market the QX50 and it slipped through the cracks even though (when they finally got around to reviewing it), it received generally good reviews in the automotive press. Although the price was lowered by close to $5000 for 2015, sales remained sluggish.
Customers who did buy the QX50 were treated to spirited performance. With its 3.7 litre V6 engine, the QX50 could go from a standstill to 100 kph in about 6 seconds – very respectable for any UTE. The QX50 was also lighter and lower, and had better handling than most SUV's then on the market.
There were two major drawbacks to the QX50's uber cute compact design however – lack of rear seat and cargo room. Sitting in the front seats was comfortable although a bit cozy, especially for bigger drivers, but sitting in the back seat for any length of time could be an ordeal and major shopping expeditions to IKEA were out of the question.
That was then, this is now.
There was no 2018 Infiniti QX50. Infiniti decided to focus all of its energy and extra time creating something really big for 2019. The next generation Infiniti QX50 is not only bigger, more luxurious, and better to drive – it's got an engine that will literally change the automotive industry forever.
What Is Variable Compression and Why Is It Important?

The QX50 has received a complete interior and exterior design for 2019. But, what's truly remarkable about the new QX50 is the four cylinder, Variable Compression engine that lurks beneath the aggressively contoured hood. For the very first time in history, a production vehicle is equipped with a Variable Compression engine.
In a traditional gasoline engine, the compression ratio is always the same. High compression is a good thing because an engine can derive more mechanical energy from a given amount of fuel/air mixture at higher compression. However, when they're driven hard, it's easier for a high compression engine to self destruct.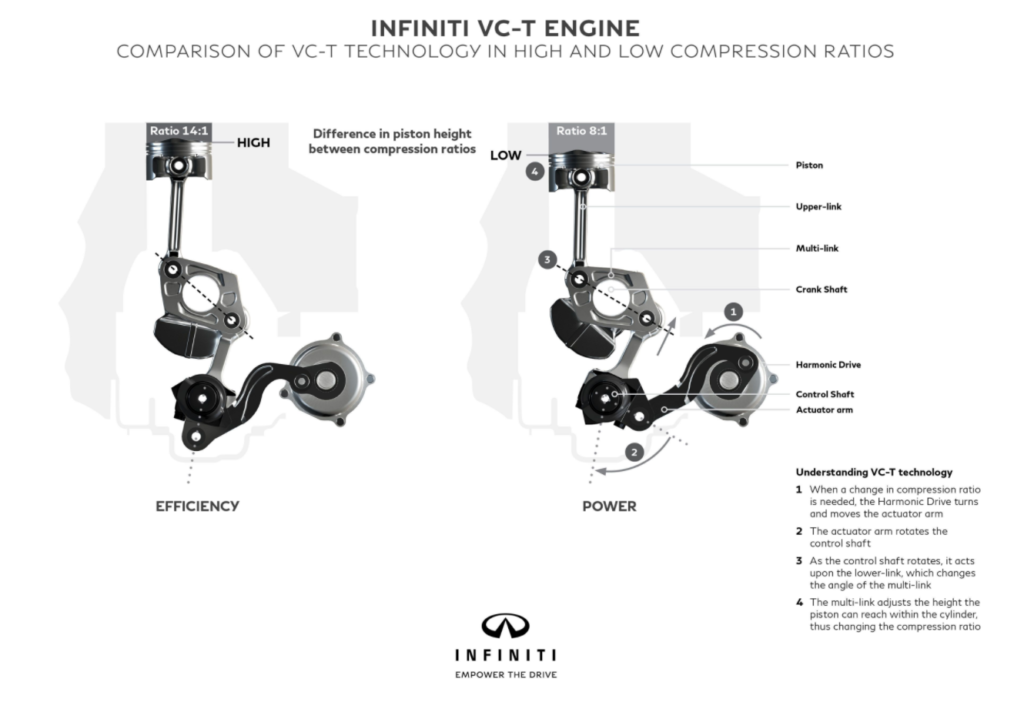 The amazing thing about the engine in the QX50 is the engine compression ratio can change from 8:1 to 14:1 and anywhere in between depending on how you're driving. It's an engineering marvel and it makes the QX50 powerful yet very fuel efficient. Here's how it works.
A 14:1 compression ratio is ideal for when you're cruising down the highway and the engine isn't being particularly stressed. At 14:1, fuel efficiency is maximized. If you need a lot of power on demand, for example to pass on a hill, the engine adjusts to reduce the compression ratio, the turbocharger kicks in, and you experience V6 like power without overstressing the engine or burning a lot of fuel. The new VC engine has more torque, and it peaks at very low rpm's offering diesel like torque and full efficiency, but in a gasoline engine. Peak output is 268 hp at 5,600 rpm and 280 lb-ft of torque from 1600 to 4800 rpm.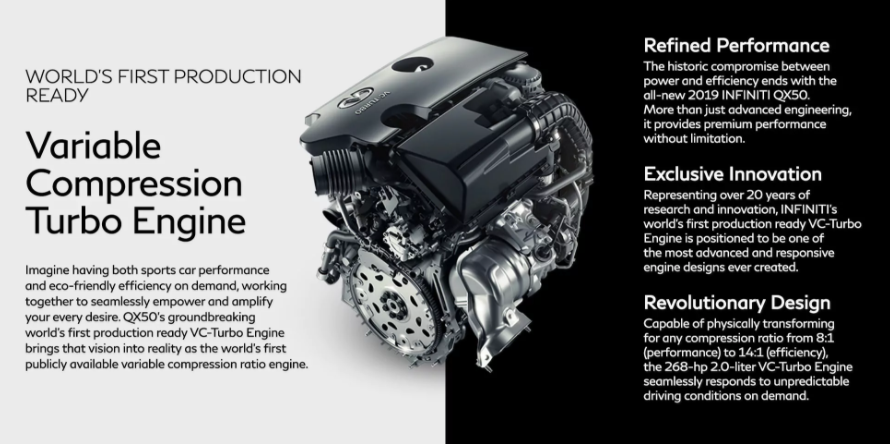 What this really means is the fuel economy in the 2019 QX50 is 35% better than its predecessors – 26-27 mpg (9-8.7 L/100km) combined vs 20. The VC engine in the QX50 doesn't really feel any different than any other turbo charged 4 cylinder engine and that's the whole point. Fuel efficiency is further enhanced with a CVT transmission. For drivers who prefer the feel of a traditional stepped transmission that changes gears, the QX50 is equipped with eight speed paddle shifting.
There are some other interesting things about the VC engine that only true gear heads will care about. For example, it has plasma transferred wire arc cylinder liners like the GT-R. It also has a multi-path cooling system and variable geometry oil pumps to keep the engine cool and well lubricated. Turbo lag and spool up times are reduced by bolting the turbo directly to the cylinder head. The engine in the new QX50 truly is a beautiful thing.
Without a doubt, the competition will be tearing apart a VC Turbo 2.0 as soon as they can get their hands on one to see how Infiniti did it. Then, variable compression engines will become the norm. But for now, the engine in the QX50 is revolutionary.


Driving the QX50
So, the new QX50 is fuel efficient and has an engine that's going to change the automotive industry forever (or at least until internal combustion engines are replaced by electric motors). Let's face it though, what most drivers are going to worry about will be comfort, driving characteristics, and aesthetics. The QX50 has all the bases covered.
The old QX50 was sort of stodgy and a bit bland. The new QX50 is beautiful from every angle and it looks like the premium vehicle it is. Infiniti set out to create something new and revolutionary when they started work on the re-designed QX50 and they didn't stop at the VC engine.
The new platform is made out of Super High Formability Steel and is 23% stiffer than the old one. Weight to size ratio is among the best in the segment. The QX50 is also one of the larger vehicles in the compact luxury SUV segment. The elegantly appointed interior offers room for 5 adults and 38.7″ of rear seat room and the most cargo space in the class. The QX50 is now front wheel drive which means there's more room for passengers because less interior space is eaten up by the transmission and drive train components. The interior features "curated materials" like diamond stitched seats, aluminum and suede inserts, and open pore maple trim. There's one powertrain, but five successively luxurious trim levels to choose from.
The QX50 offers a selectable driving experience and allows drivers to choose from four driving modes – Standard, Eco, Sport, and Personal. Gas misers will love Eco mode which makes the already fuel efficient QX50 even easier on gas. Performance oriented drivers will love the Sport mode. Drivers who want to customize their driving experience will probably pick Personal mode. And, for the rest of us who just want to get from point A to B in supreme comfort, Standard mode pushes all the right buttons.
The QX50 is equipped with a dual screen information and navigation system. What's nice about this feature is it allows you to keep the map displayed at all times, even when you're adjusting the audio or climate controls.
Safety First
The QX50 is also designed to be safe as safe can be. Forward Collision Warning and Emergency Braking with Pedestrian Detection is available at all trim levels. Advanced safety features such as ProPilot are available at upper trim levels. ProPilot provides Predictive Front Collision warning, helps in stop and go traffic, and can take over acceleration, braking, and even steering. ProPilot helps to keep the QX50 between the lines so you're much less likely to leave your lane when you're tired, or you glance down to look for your water bottle or sneak a peek at what the kids are doing in the back seat. There's also an available surround view camera system with front and rear parking sensors.
Be First in Line for the QX50
Luxurious, roomy, powerful, and loaded with tech that will make your drives safer. The 2019 QX50 starts at $44,490 CDN. Reserve yours today at Infiniti.ca and qualify for some great gifts.